Adoption Has Changed Our Lives
For The Better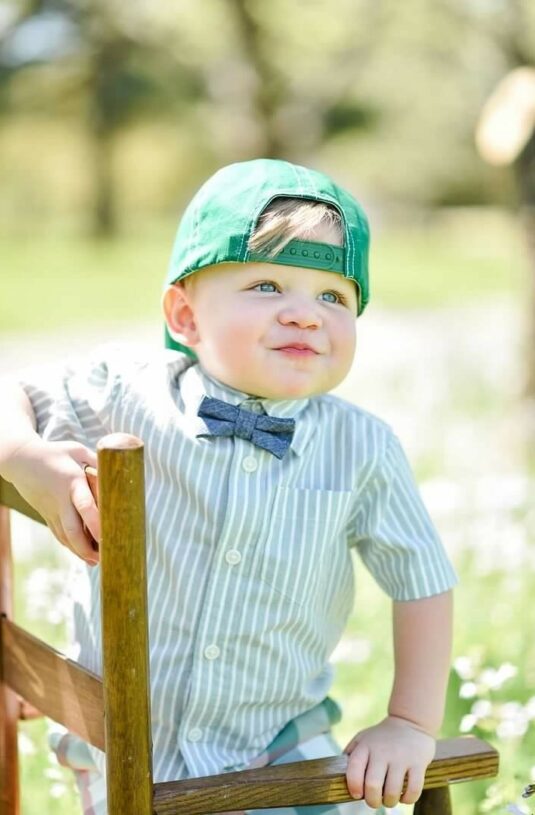 Family has always been important to us, and we always knew we wanted to have children. We began trying to start a family two years after we got married. After years of trying and multiple fertility treatments, we knew God was leading us down another path to adoption. Gladney helped make our dream become a reality. We were blessed with an amazing boy named Rory.
Our favorite story about our adoption journey is when we met Rory's birth mother for the first time. We were under the impression she was having a baby girl. We only had two weeks before we met her, so we decorated the nursery for a girl to show her pictures at our first meeting. During dinner, when the "baby girl" was brought up, she looked at us and said, "You do know that it's a boy, right?" We just sat there for a minute confused, and then everyone started laughing because Jarrod could not contain his excitement about a boy! She later told us his reaction completely sealed the deal for her picking us! So of course, we rushed home and completely redid the nursery for a boy!
Three words that best describe Rory are miracle, smart, and funny. Rory is definitely our miracle from God. He is an amazing boy who has already overcome great challenges. Before we started going through fertility treatments and talking about what to do next if treatments didn't work, we had never thought about adopting a child. But God's plan for our family and bringing a baby into it was so much better than our plan! He answered every single prayer we had and even more! Adoption has taught us so much about love and sacrifice. We are most thankful for Rory's birth mother. We had not really decided or even talked about an open adoption with his birth mother. After Rory was born and the more contact we had with her, it turned into the best relationship and an open adoption. We have met with her and her extended family on several occasions, and she comes to our house for sleepovers and quality time with Rory. We love her so much and are eternally grateful for her love and sacrifice.
In April 2018, when Rory was almost 2, he was diagnosed with a very rare and very large abdominal tumor. We were rushed to a children's hospital for surgery to remove the tumor. Thankfully, he did amazingly well, and the tumor was benign. It was definitely the hardest thing we had ever faced. We are very fortunate to have such a large support system from all of our family and friends who helped us through that scary time. After the surgery, we contacted Rory's birth mother to update her on what was going on. She and her parents were so supportive and visited us every day we were in the hospital. Rory has been happy and healthy since the surgery, and we praise God every day for pulling us through this. We hope Rory always feels our unconditional love for him and knows how special the miracle of adoption is. We will always be open with him about our adoption story so that he knows where he came from and can appreciate the sacrifice his birth mother made for him.
We are so glad we chose Gladney for our adoption journey. The caseworkers are truly amazing! We never felt pressured or alone, and they are always available for support! Every child deserves a loving and caring family. Gladney is such a blessing to the community and to everyone involved in an adoption who chooses Gladney for their journey. We will always recommend Gladney to anyone who is interested in adoption. No matter what race, parent's background, physical abilities or needs, God made "every child" with a specific purpose. Adoption has changed our lives for the better. It has brought our whole family closer together throughout all of the ups and downs and made our family complete. We are so grateful for the gift of adoption, and now, we couldn't imagine our life without this journey and our precious boy.