Adoption Story
Embracing The Past & Moving Forward With Joy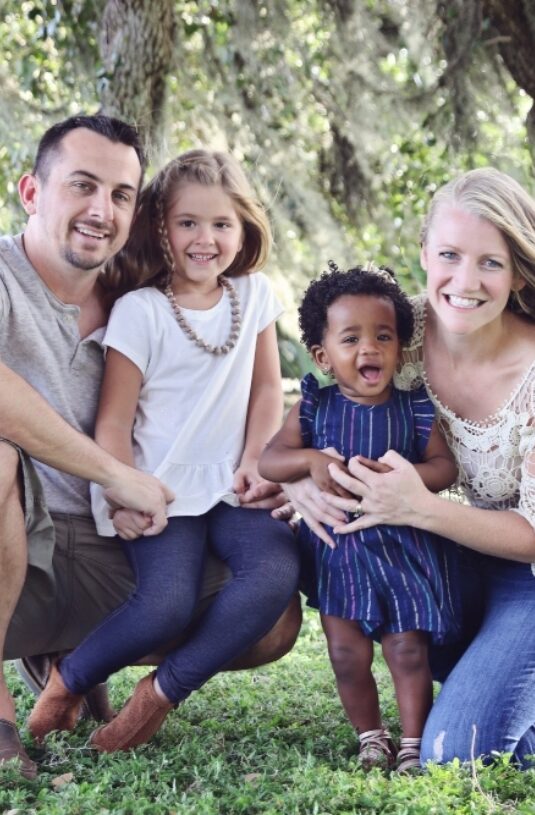 Every child deserves a loving and caring family and the hope of a bright future. For us, this truth is exemplified in the adoption of our two beautiful daughters, Elsie and Charlotte. Family isn't just blood. It is made up of the people who rejoice with us in our successes and walk through life with us in our struggles. These girls, although born of different mothers, into different cultures, with different capabilities, are now creating such a beautiful bond of love, appreciation, and protection. They are the truest form of sisters. Our goal is to be a place where our children can embrace their pasts and move forward with joy into their purposes. Our most overwhelming hope is that our children lead lives full of integrity and marked by kindness.
From the day we brought Elsie home, we've made the topic of adoption an open conversation in our household. We wanted her to be proud of the way we grew as a family and to appreciate the sacrifice her first mommy made in placing her with us. Elsie is still raw in her full understanding, but we are incredibly proud of the way she openly discusses her first mommy by name, her home state of Texas, and the fact that she got to ride in an airplane to her forever home. She is over the moon for her baby sister, Charlotte, and loves the adoption bond they share. Making her part of this process has been helpful in supporting her own understanding of family and in strengthening her love for the kindred heart in her baby sister.
Being Gladney Parents has opened our eyes to how love truly creates a family. Strength and depth of character are developed through the hardships we face. Like clay being put through the fire, it creates in us something entirely different and remarkable. We had this idea of what our family should be like, but embracing the struggle and the loss that exists through all facets of the adoption process helped us to see an entirely new and beautiful perspective. We prayed God would create the family we desired, and what he did through Gladney was far better than what we asked. His purpose was greater than ours. Adoption is truly a miracle. It's the redemption of the family, and it has shown us our own capacity to love deeply.

We are grateful for the care Gladney takes with each part of the adoption process. One of the scariest moments for us was when our first daughter, Elsie, moved into transitional care following her birth. Although miles away, our hearts were immediately connected to our precious girl. When she was placed with her transitional care mom Mrs. Jane, we were initially worried about her environment and the care she was receiving. Thankfully, Mrs. Jane reached out to us that same day and shared all the precious details of our baby girl. She sent multiple pictures a day and worked diligently to help us know Elsie was in the very best place. She loved our Elsie like she was her own. We went into our second adoption with a great sense of trust for the care Gladney takes with each part of the adoption process. When we got the call that we'd been matched with our daughter, Charlotte, we were told she was being cared for by the same Mrs. Jane who had loved on our first daughter, Elsie. This divine orchestration strengthened our peace through the period of waiting and culminated in a perfect reunion when Elsie joined us at placement with baby Charlotte and their sweet Mrs. Jane.

Rachel and Brian